$

8.00
1948 - The Beginning of the End - Part1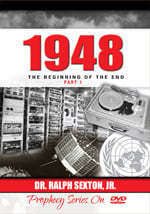 1948 could be considered the year it all began.
Was the year 1948 the beginning of the end?
How did the inventions of 1948 change our world forever?
What was the connection between the World Bank, The Global Economy, and 1948?
Did the pinpoint prophecy of Matthew 24 begin in 1948?
The answer to these questions and many others will be found in this study with Dr. Sexton and the Word of God.