$

8.00
The Hem of His Garment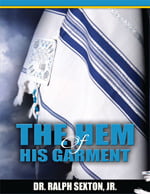 In ancient days, Jewish prayer shawls were extremely important...they were unique to each person which identified their authority and position in society. The shawl was used as a covering to approach a Holy God in prayer. Today, Jesus is our prayer shawl.
Just as the woman who reached to touch the hem of Jesus' garment for the healing of her body, we have the opportunity to believe and have faith in our Redeemer, Christ Jesus.
Through prayer...through Jesus...all our needs can be met. Ask yourself, have you reached for the Hem of His Garment lately?